Animoto Book Trailers
Friday, September 26, 2014, 07:42 AM
I'm teaching 6th Grade now at St. Michael's in Cuero. We're authoring Animoto Book Trailers from our reading list. Here's one a student did on Gary Paulsen's book Hatchet. -LJ
[ add comment ]
|
[ 0 trackbacks ]
|
permalink
|
( 3.1 / 44 )
Chinese Browsers
Thursday, August 21, 2014, 04:23 PM
Apache Server Log:

ptr.cnsat.com.cn - - [21/Aug/2014:16:12:48 -0500] "GET / HTTP/1.1" 200

Why am I getting http traffic from China?
[ add comment ]
|
[ 0 trackbacks ]
|
permalink
|
( 3 / 49 )
Server Specs
Monday, June 2, 2014, 02:09 PM

[root@tuna ~]# df -h
Filesystem                   Size  Used Avail Use% Mounted on
rootfs                        50G   21G   29G  42% /
devtmpfs                     3.9G     0  3.9G   0% /dev
tmpfs                        3.9G  104K  3.9G   1% /dev/shm
tmpfs                        3.9G  377M  3.6G  10% /run
/dev/mapper/vg_tuna-lv_root   50G   21G   29G  42% /
tmpfs                        3.9G     0  3.9G   0% /sys/fs/cgroup
tmpfs                        3.9G     0  3.9G   0% /media
/dev/sda1                    485M   73M  387M  16% /boot
/dev/mapper/vg_tuna-lv_home  235G   27G  196G  13% /home
[root@tuna ~]# free -m
             total       used       free     shared    buffers     cached
Mem:          7985       5361       2624          0        349       2484
-/+ buffers/cache:       2526       5458
Swap:        10047         62       9985
[root@tuna ~]# 

[ add comment ]
|
[ 0 trackbacks ]
|
permalink
|
( 3 / 108 )
Houston Router CPU utilization abnormal
Friday, May 9, 2014, 09:45 AM
To: UT/THEnet Contacts
Date: Fri, May 09, 2014
Subject: Houston Router CPU utilization abnormal
Message: CPU utilization on hstn-lvl3-core is abnormally high. There are signs of throughput drops interfaces.
Mitigation is to switch to alternate CPU
TICKET: (Use this number for reference when contacting the OTS NOC about this problem)
START DATE/TIME: 4:00 AM CDT Friday, 09 May 2014
END DATE/TIME: 8:50 AM CDT Friday, 09 May 2014
[ add comment ]
|
[ 0 trackbacks ]
|
permalink
|
( 3 / 139 )
Twitter Page @leif021
Wednesday, April 30, 2014, 08:27 AM
[ add comment ]
|
[ 0 trackbacks ]
|
permalink
|
( 3 / 162 )
How to Hard Reset a RB450
Tuesday, April 15, 2014, 10:36 AM
Open the case. Short out the point displayed in the picture. Boot til beep. Then reboot. This should take it back to factory setting. I'm trying it later today.
The following default configuration has been installed on your router:
ether1 is renamed to ether1-gateway
DHCP client and masquerade is set on ether1-gateway
ether2 is renamed to ether2-master-local and configured as switch master port for ether3-ether5
IP address 192.168.88.1/24 and DHCP server is set on ether2-master interface
DHCP servers address pool is 192.168.88.10-192.168.88.254
You can click on "Show Script" to see the exact commands that are used to add and remove this default configuration.To remove this default configuration click on "Remove Configuration" or click on "OK" to continue.
NOTE: If you are connected using the above IP and you remove it, you will be disconnected.
[ 1 comment ]
( 10 views ) |
[ 0 trackbacks ]
|
permalink
|
( 3 / 184 )
Status on CVE-2014-0160, aka "Heartbleed"
Wednesday, April 9, 2014, 08:58 AM

OpenSSL Security Advisory [07 Apr 2014]
========================================

TLS heartbeat read overrun (CVE-2014-0160)
==========================================



A missing bounds check in the handling of the TLS heartbeat extension can be
used to reveal up to 64k of memory to a connected client or server.

Only 1.0.1 and 1.0.2-beta releases of OpenSSL are affected including
1.0.1f and 1.0.2-beta1.

Thanks for Neel Mehta of Google Security for discovering this bug and to
Adam Langley <agl@chromium.org> and Bodo Moeller <bmoeller@acm.org> for
preparing the fix.

Affected users should upgrade to OpenSSL 1.0.1g. Users unable to immediately
upgrade can alternatively recompile OpenSSL with -DOPENSSL_NO_HEARTBEATS.

1.0.2 will be fixed in 1.0.2-beta2.

FIX Fedora 20
For Fedora 20 x86_64:
yum -y install koji
koji download-build --key=246110c1 --arch=x86_64 openssl-1.0.1e-37.fc20.1
yum localinstall openssl-1.0.1e-37.fc20.1.x86_64.rpm
Substitute i686 for 32-bit systems, or armv7hl for ARM systems (F20 only).
[ add comment ]
|
[ 0 trackbacks ]
|
permalink
|
( 3 / 182 )
Public Financing Lessons From Our Government Class
Wednesday, April 2, 2014, 01:06 PM
The cost of the U.S. war in Afghanistan has already topped $700 billion. Together with the expense of the invasion into Iraq and the subsequent occupation, the bill to American taxpayers stands at more than $1 trillion and counting. In 2011 the Commission on Wartime Spending estimated that as much as $60 billion of U.S. spending in Iraq and Afghanistan had been lost to waste and fraud.
[ add comment ]
|
[ 0 trackbacks ]
|
permalink
|
( 3 / 189 )
alert@the.net
Tuesday, April 1, 2014, 08:01 AM
alert@the.net
3:06 PM (16 hours ago)
to
To: UT/THEnet Contacts
Date: Mon, Mar 31, 2014
Subject: Network Trouble:
Message: Still no ETR on this issue. The fiber provider is still digging to the fiber.
New highway bridge construction resulted in a bridge piling being driven thru the fiber and it's conduit.
You may now include Pile drivers, as well as backhoes and augers, in the fiber enemy category.
TICKET: (Use this number for reference when contacting the OTS NOC about this problem)
PROBLEM ONSET: 9:14 AM CDT Monday, 31 March 2014
Duration: Unknown
Sites Affected:
Customers Affected: UT Research and Collaboration Network
[ add comment ]
|
[ 0 trackbacks ]
|
permalink
|
( 2.9 / 190 )
ERATE FORM 471 2014-2015
Wednesday, March 26, 2014, 08:15 AM
I filed this paperwork last week and we are already in the final review stage. The next step will be Form 486 in July. Call me if you need assistance. -Leif
[ add comment ]
|
[ 0 trackbacks ]
|
permalink
|
( 3 / 198 )
We've Hit 40 MBPS Today
Friday, March 21, 2014, 02:29 PM
Must be the March Madness, but we drew up Internet traffic at 40 MBPS for the first time today.
[ add comment ]
|
[ 0 trackbacks ]
|
permalink
|
( 3 / 208 )
Find out why over 5 million business have chosen Google Apps
Friday, February 28, 2014, 10:45 AM
Over 5 million business have switched to Google Apps, the cloud-based productivity suite that helps you and your team connect and get work done from anywhere on any device. It's simple to setup, use and manage, allowing you to work smarter and focus on what really matters.
We switched to Google Apps for Education in August.
Teachers & students love it.
[ add comment ]
|
[ 0 trackbacks ]
|
permalink
|
( 3 / 243 )
Make Your Own App
Friday, February 28, 2014, 09:11 AM
Conduit Mobile · Suggested Post
Get an App for Your Business in Seconds -->
****************************************** http://gomob.im/Get-An-App
No Coding, It's Easy! -
Link
[ add comment ]
|
[ 0 trackbacks ]
|
permalink
|
( 3 / 256 )
All ERATE P2 funding will be denied for FY 1-2013
Friday, February 28, 2014, 08:58 AM
For those of you that may not have seen this latest USAC announcement, it appears all P2 funding will be denied for FY 1-2013! Certainly NOT the news some of us wanted to hear.

2/27/2014 – Update on Priority 2 Commitments for FY2013

On February 7, 2014, the USAC Schools & Libraries Committee approved a resolution that authorized USAC to deny all FY2013 Priority 2 (Internal Connections and Basic Maintenance) requests at the 90 percent discount level upon FCC approval. On February 24, the FCC authorized USAC to proceed. These denials will start with FY2013 Wave 41, dated March 5, 2014.
Previously USAC had been authorized to deny all Priority 2 applications at the 89 percent discount level and below. As a result, USAC will fund no Priority 2 applications for FY2013.
[ add comment ]
|
[ 0 trackbacks ]
|
permalink
|
( 3 / 256 )
Poulan Fuel Line Replacement (snarged)
Tuesday, February 25, 2014, 03:21 PM
Poulan 2175 chainsaw Wild Thing fuel line replacement. I searched the entire internet to find good directions for replacing the fuel lines and was unsatisfied. However, now that I have done it I hope to provide good directions here. First if your lines have not crumbled into unrecognizable pieces then take note of everything. For this job you will need a phillips head screw driver a star head driver, pliers or socket set, scissors and a pair of forceps. Plus you should buy 2 feet of 1/8th inch tubing, 2 feet of 3/32 inch tubing, a new fuel filter and possibly a new Poulan purge/primer bulb. Take off two outer covers, the air filter and the carburetor you will have to detach the carburetor from the throttle wire (take note of how it connects). You will have to unseat both the blue choke and red on/off plastic switches. Turn the saw so the blade is off to your left. Now when you look into the cavity you should two holes going into the fuel tank. The big far one is the return. The little close one is the pickup. Take your bigger tubing and make a tapering cut about two inches long on one end. This gradual taper is the only way to feed the hose into the tight hole. push in the 2 inches of tapered cut and then reach into the tank with the forceps and grab the tubing. Slowly pull the tubing in to the tank and out the cap opening. This may mean you have to grab with the forceps and only pull an inch then regrab. Once you have enough out cut off the taper and put on a very small part that has a washer and a little tapered rubber end. The fuel will reenter the tank through here but the tapered end closes to keep it from reversing. Pull excess tubing back up until about an inch reamins in the tank. Next repeat with the smaller hose and smaller hole. Put the fuel filter on this and leave enough slack in the tank to have the filter move from side to side. Now reinstall the carburetor and connect the little hose to the black plastic upper fitting on the carburetor. Take the remaining small tubing and connect it to the brass carburetor fitting. Run both the small and large tubings under the carburetor toward the purge valve (toward you). The purge value has markings on it and the big fitting says tank and the little fitting says carb. Cut the tubing to a length about an inch longer than it will need. Put the big tube on the big fitting and the little tube on the little fitting. Put everything back together. The tricks in this advice are: the little tubing runs from the tank to the carburetor ( this doesn't seem logical to me) and that the primer is after the carb in the fuel flow ( another illogical thing). Hope this helps. 1/8 inch = 0.125 inches = 3.175 mm; 3/32 inch = 0.09375 inch = 2.38mm
[ add comment ]
|
[ 0 trackbacks ]
|
permalink
|
( 3.1 / 251 )
The Search
Monday, February 24, 2014, 09:00 AM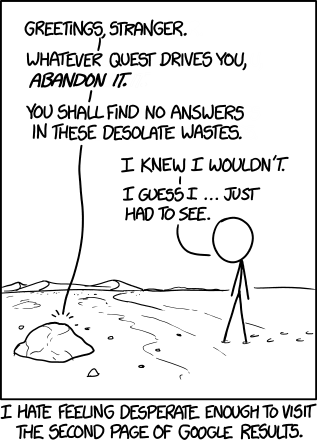 [ add comment ]
|
[ 0 trackbacks ]
|
permalink
|
( 3 / 263 )
Dink
Tuesday, February 11, 2014, 08:42 AM
Blink (script removed)
FYI:
http://www.mis.esc2.net/routers/mrtg/10.180.1.2_17.html
[ add comment ]
|
[ 0 trackbacks ]
|
permalink
|
( 3 / 249 )
Using DD to make a Fedora bootable USB
Wednesday, January 29, 2014, 10:29 AM
The Fedora Project recommends using livecd-tools rather than dd for creating USB media whenever possible.
Plug in your USB flash drive.
Find the flash drive's device name. If the media has a volume name, use it to look up the device name in /dev/disk/by-label, or use the findfs command:
findfs LABEL=MyLabel
If the media does not have a volume name or you do not know it, you can also use the dmesg command shortly after connecting the media to your computer. After running the command, the device name (such as sdb or sdc) should appear in several lines towards the end of the output.
Use the dd command to transfer the boot ISO image to the USB device:
su -c 'dd if=path/image_name.iso of=/dev/device bs=block size'
where path/image_name.iso is the boot ISO image file that you downloaded and device is the device name for the USB flash drive. Ensure you specify the device name (such as sdc), not the partition name (such as sdc1). The bs option specifies the block size; it can be omitted, but specifying it will speed up the process. For example:
su -c 'dd if=~/Downloads/Fedora-Live-Desktop-x86_64-20-1.iso of=/dev/sdc bs=512k'
[ add comment ]
|
[ 0 trackbacks ]
|
permalink
|
( 3 / 274 )
Next